If y'all have any Southern favorites that you want to share, drop me a line on the comment section. Bon Appetit!


​Buttermilk Pie by: Fay of Mississippi
Ingredients:
4 eggs
1 stick margarine melted
2 cups of sugar
2 tablespoons of regular flour
1 teaspoon vanilla flavoring
2/3 cup of buttermilk
Mix all ingredients together.
Pour into unbaked pie shell
Bake at 350 degrees until done.
(pie is done when knife inserted into the center of pie comes out clean)
Texas Sweet Potato Pie
Bake 4-5 large sweet potatoes in oven until done.
Let cool and peel.
In a large bowl, mash potatoes (makes about 2-3 cups)
Mix 1 1/2 cups sugar, 6 eggs, and 2 teaspoons vanilla
Mix with potatoes and set aside

​In Top of double boiler:
Add 1 cup of milk
When melted, add 8-10 Kraft caramels, stir until melted
Add 1 jar of marshmallow cream, stir until melted

Pour into potatoes, stir until all is mixed well
Pour into unbaked pie shells (makes 2 pies)
Set oven at 425 degrees for 10 minutes until pie is set and then turn oven to 350 degrees for 20 minutes or until done.
(pie is done when knife inserted into the middle comes out clean)




Southern Pecan Pie
This is a classic pecan pie, made with corn syrup, pecan halves,
butter, and eggs.
Ingredients:
1 cup light corn syrup
1 cup brown sugar
1/4 teaspoon salt
1/3 cup melted butter
1 teaspoon vanilla
3 large eggs, slightly beaten
1 heaping cup pecan halves
1 pie shell, unbaked, 9-inch

Preparation:
In a large bowl, combine corn syrup, brown sugar, salt, butter, and
vanilla; mix well. Add slightly beaten eggs and blend well; stir in pecans.
Pour into the unbaked pie shell. Bake in a preheated 350° oven for 45 minutes, or until set. Cool pecan pie and serve with a dollop of whipped cream or vanilla ice cream.



Hot Water Cornbread by Christie V. of Texas

3/4 cup regular corn meal
1/4 cup flour
1 Tablespoon sugar
1/2 Teaspoon baking powder
dash of salt
Boiling water enough to make batter stick together
*If using self rising flour omit baking powder and salt*
In a skillet pour enough oil in pan so batter can float get the oil really hot. They key to making hot water cornbread is making sure you oil is hot enough. I used Self Rising Flour in this recipe.

Mix the above ingredients together and add boiling water just enough to make stick. form into oblong pieces and drop into hot oil... Cook about 2 1/2 minutes on each side flip until golden brown on each side.





Becky's Pink Lemonade Pie

Ingredients:
1 graham cracker pie crust
1 14-ounce can sweetened condensed milk
6-ounce can of frozen pink lemonade concentrate, thawed
1 medium (8 ounce) container of Cool Whip, thawed

Preparation:
Beat together condensed milk and lemonade
Fold in Cool Whip. Pour into pie crust.
Freeze for 3-4 hours until firm.
(For thicker and less tart pie, increase Cool Whip to 12
ounces.)



Redneck Gumbo (Shrimp and Andouille Gumbo)
Recipe from: Capt. Wendy at Bayou Woman
http://bayouwoman.wordpress.com/

Ingredients:
1 pound shrimp, peeled
1 pound andouille (or smoked sausage), sliced
1 can French onion soup
1 can beef broth
1-2 cans water
1/2 stick butter
1 bunch green onions, chopped
1 medium green bell pepper, chopped
4 stalks celery, chopped
small can sliced mushrooms (optional)
pinch of ground cayenne pepper

Preparation:
Sauté vegetables in butter until they start to soften,
being careful not to burn the butter.
Add sliced sausage, stir, and simmer a while longer.
Now add the shrimp and let them simmer until slightly
cooked to a salmon color
Now add the liquids, with one can of water ( add more water
later if the sauce tastes too strong for you).
Stir until all elements are blended well.
Now add the cayenne pepper and drained diced
mushrooms, if you desire.
Cover, and simmer on low for about half an hour.
Serve over cooked rice.

Serves 4-6 (easily doubled) CAUTION: do not add salt,
as the soup, broth, and sausage make this recipe salty enough






Powered by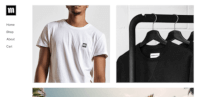 Create your own unique website with customizable templates.